The votes are in and have been counted so now it's time to wave goodbye to the 2012-13 season by reliving all the best and worst of the last 12 months. The season may not be one that we look back on with any particular fondness, but there are nonetheless moments which stand out, whether for good or for bad, and we celebrate them all in the TBFUTH Awards 2013!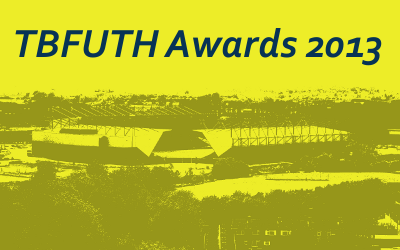 Player of the Season
Winner: Jake Wright
Percentage of Vote: 91%
For many of Oxford United's players, this season has been a disappointing one. Influential stars have been absent through injury for large parts of the season, while others have frustratingly struggled for form. But one player has stood head and shoulders above the rest to claim this year's
TBFUTH Player of the Season Award
with a staggering 91% of the vote. I'm referring, of course, to captain Jake Wright, whose title was never in any doubt after a fantastic season. Wright has led by example this season, his passion and pride evident in both good times and bad and with so many important players missing (both literally and figuratively) his contribution to the cause was all the more noticeable.
Goal of the Season
Winner: Andy Whing v Rochdale (20/04/13)
Percentage of Vote: 44%
There are not many people who would have believed this time last year that we would be awarding the 2013
TBFUTH Goal of the Season Award
to Andy Whing – but that's exactly what's happened! Whing is often praised for his bulldog spirit and his ferocious playing style, but spectacular overhead kicks are not typically part of his repertoire, so it was particularly surprising to see him pull off such a feat to open the scoring against Rochdale. There have been other excellent goals scored this season (Tom Craddock's effort away at Wycombe was a close contender) but the sheer novelty of seeing such a piece of skill pulled off by the usually agricultural Andy Whing elevates this one above the rest.
Most Inspired Signing
Winner: Sean Rigg
Percentage of Vote: 86%
Admittedly, transfer activity over the last past 12 months has been rather limited, but there are few who could deny that Sean Rigg has proven himself to be a valuable asset this season and worthy winner of the
TBFUTH Most Inspired Signing Award
. After signing from Port Vale
during the summer
, Rigg has impressed tremendously on the right wing this season, his pace and ball control terrorizing opposition defences – and he's contributed a few goals as well. And with Chris Wilder favouring a 4-4-2 formation for the latter half of the season (a change from his previous 4-3-3 favourite) Rigg became an even more important player for United due to the increased need for an out-and-out winger. More than anyone Rigg will have been disappointed with the way this season has gone for Oxford, especially as he watches his former Vale team-mates celebrate promotion to League One. But if that fires him up even more next season, we could have plenty more reasons to be singing Rigg's praises next season.
Worst Signing
Winner: Justin Richards
Percentage of Vote: 62%
When it was first announced that Justin Richards was signing on loan from Burton at the start of January, I'll admit that I had my doubts. But in the handful of appearances he made in January he looked to be a good signing, putting himself about and holding the ball up well. His loan deal was made permanent on transfer deadline day but just when it was looking as if Richards might have a more long-term future at the club the inevitable happened: just a couple of weeks after signing permanently for the club he was ruled out for the rest of the season thanks to a
torn cruciate ligament
. He played a grand total of two matches following his permanent signing. As a result, the club was left paying wages for the rest of the season to yet another player who would be unable to play and so as a result – through no particular fault of his own – Justin Richards has the dubious honour of 'winning' the
TBFUTH Worst Signing Award
.
Best Loanee
Winner: Johnny Mullins
Percentage of Vote: 75%
Rotherham fans were left perplexed by Steve Evans' decision to loan us Johnny Mullins – and it soon became easy to see why. Mullins was little short of a revelation during his all-too-brief spell at the Kassam, earning him the
TBFUTH Best Loanee Award
. As imperious as Jake Wright has been this season, the other place in central defence has proven to be a more difficult role to fill, with Michael Duberry absent for most of the season and Michael Raynes struggling to find his feet following his arrival last summer. But Mullins was able to slot in alongside Wright almost instantly, shoring up a porous defence and notching a couple of goals himself during his time at the club. Unfortunately, after just eight games Mullins was recalled to Rotherham, making 30 more appearances for the Millers to help them to promotion.
Worst Loanee
Winner: Daniel Boateng
Percentage of Vote: 44%
20-year-old Daniel Boateng arrived at the club in the summer on a six-month loan from Arsenal. However, his impact at the club was minimal, being restricted to just two league appearances and a few cup cameos in which he played almost no part. By October he had played his last game for Oxford, Chris Wilder choosing to look elsewhere for his defensive options and in January Boateng was quietly ushered back to Arsenal. Boateng was not a spectacular failure, but as with his fellow loanee Sean McGinty (who ran Boateng very close in the vote) he impressed no-one and quickly – mercifully – vanished from the memory. Unfortunately for him, not quite enough to avoid the ignominy of 'winning' the 2013
TBFUTH Worst Loanee Award
.
Best Team Performance
Percentage of Vote: 44%
On Tuesday 8
th
January Bradford City shocked Premier League Aston Villa with a comprehensive 3-1 victory in the home leg of their League Cup semi-final. But just a matter of days later they were humbled on their home turf thanks to an excellent Oxford display. The hosts were understandably confident in the opening stages and took an early lead, but United fought back valiantly and levelled the scores with a thunderous effort from Sean Rigg. Oxford continued to attack their tiring opponents and finally got their just desserts in the final minute of the game as Peter Leven slotted home a penalty to bring the points back home and cap an impressive eight-game unbeaten run in the league – but most importantly, of course, winning the
TBFUTH Best Team Performance Award
!
Worst Team Performance
Percentage of Vote: 52%
This was possibly the most abject Oxford performance in recent memory and fully deserves its
TBFUTH Worst Team Performance Award
. We came into the game on the back of a four game unbeaten run which included back-to-back victories over Gillingham and Port Vale and expectations were understandably high that we could complete a treble over the league's top three. Instead the fans were treated to our heaviest ever defeat at the Kassam Stadium thanks to 15 first-half minutes of madness, to go in 4-0 down at the break in front of a stunned home crowd. After such an appalling first-half display there was little to cheer for the loyal fans who remained and even with the match effectively over as a contest a shell-shocked Oxford seemed more determined not to concede any further goals in the second half than to restore any pride by scoring themselves, allowing Rotherham to coast to the easiest away victory they are ever likely to earn.
Best Moment
Winner: Alfie Potter's goal v Swindon
Percentage of Vote: 65%
Last season's rare double over Swindon was a sweet experience for Oxford, but bragging rights were placed firmly in the balance once again when the two clubs were drawn together in the
first round of the JPT
. In their customary fashion League One Swindon – beaten finalists the previous season – believed they already had the tie in the bag. But they were left humiliated as they once again failed to break down a stout United defence, capping it all with a sublime piece of
comedy defending
as Darren Ward and Aden Flint collided to allow Alfie Potter in to deal the fatal blow in the dying minutes of the game, sparking pandemonium in the East Stand as supporters who usually couldn't give a stuff about the Trophy went delirious with joy. There haven't been too many moments to savour in the last 12 months, but this was definitely one and the obvious choice for the
TBFUTH Best Moment Award
.
Worst Moment
Winner: Rotherham's fourth first-half goal
Percentage of Vote: 45%
We've already discussed this miserable night, but this was one moment which stood out above the rest to win the
TBFUTH Worst Moment Award
. Heavy defeats have been fortunately relatively uncommon in recent years and home thrashings have been even less frequent. But to find ourselves 4-0 down at half-time is a situation which Oxford fans have not had to endure since for decades. What's worse is that barely 15 minutes before Ben Pringle netted Rotherham's fourth the sides had been level and Oxford had been more than holding their own. It was a remarkable and rather pitiful collapse and the fourth goal was as weak a piece of defending as we're likely to see in our lifetimes with several defenders being effortlessly pulled out of position to deal with a lone threat, allowing Pringle the freedom of the six-yard box to slot home.
Best Opposition Goal
Winner: Calvin Zola (Burton)
Percentage of Vote: 62%
There have been a few contenders for the
TBFUTH Best Opposition Goal Award
, so it was always going to be a special effort which won it. On a day when we were thoroughly outclassed by a rampant Burton side, everything just seemed to fall into place for the hosts. Take, for example,
Calvin Zola's opener
. Receiving the ball 25 yards out and with his back to goal, he controlled it with his chest before volleying spectacularly on the turn. Most weeks such an audacious effort would likely have skewed off at an angle or sailed hopelessly high and wide. Not this one, though. It arrowed into the back of the net, leaving Ryan Clarke little more than a spectator. A rare effort indeed.