United began their FA Youth Cup campaign in a winning fashion with a comfortable 3-0 victory over Didcot Town. Although it might be expected that Oxford would brush aside lower level competition it was a relief to see them come through it unscathed, because this was a match which had 'banana-skin' written all over it. Against local opposition and away from home, there was every possibility that United could come unstuck.
Add to that the fact that youth competition has been a welcome distraction from what has been a miserable season so far for Didcot and the magnitude of this game for the hosts becomes clear. It seems money is tight at Loop Meadow this season and Didcot have struggled to compete in the Southern League Division One South and West, winning just twice in the league all season. Part of the reason they have found things so hard is that they have been forced to rely on a number of young players and their lack of experience has shown through in the side's inconsistent form.
It has, however, provided a fantastic opportunity to some of the young lads currently in their youth team and being thrust into first-team activity seems to have accelerated their progression as footballers. Their youth team are currently unbeaten in the league this season and their progress in the FA Youth Cup to reach this stage has been impressive, with victories over Binfield, Kidlington and Bournemouth FC in the qualifying rounds. Of the Didcot starting XI this evening, three – Oli Thomas, Taylor Janes and Keiran Beesley – have been regulars for the Railwaymen this season, alongside their youth team duties. Compared to our youngsters, these are seasoned pros.
And Didcot's youth team exploits seem to have provided a much-needed tonic to the inevitable apathy that settles in whenever a team is doing badly. On Saturday there were only 84 people present for Didcot's match against Fleet Town; this evening there were 291. Much of that number came hoping to see the hosts pull off an upset and it was clear that the Didcot players were fired up and ready to do just that.
Fortunately, the yellows didn't allow them the chance and it didn't take long for them to demonstrate their superior quality. In the early exchanges the ball barely left the home side's half but Oxford were constantly left frustrated by Didcot keeper Keiran Beesley. Beesley – who was previously in the Oxford youth setup before being released – has
won plaudits
for his performances for the Railwaymen's senior side and it was easy to see why on this evidence. He did well to keep out an early effort from the lively James Roberts after the striker had broken through the ranks to create a one-on-one situation.
Next he thwarted Gregg Hackett's long-range effort before twice denying Jamie Calvin – first from a point-blank header which had seemed destined for the net and then from a shot on the edge of the area. It was clear that it would take something special to beat Beesley and that's exactly what Josh Ashby delivered 25 minutes in, his perfectly weighted long-distance effort catching Beesley off his line before dropping into the empty net.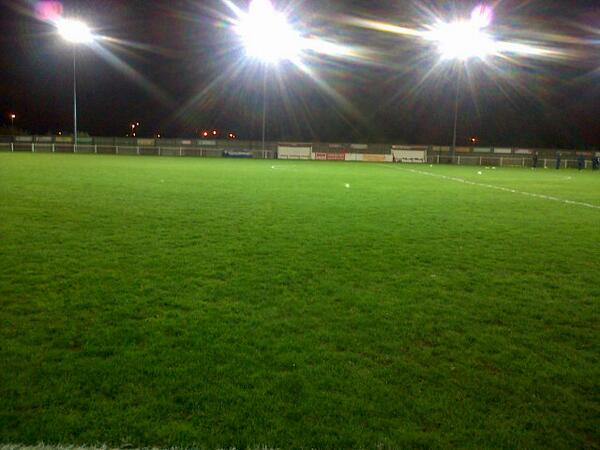 It was slightly busier than this during the match - honest!
In truth, Oxford should have been further ahead at half-time but with only one goal in it, the hosts remained in contention at the start of the second half and the game was finely poised. One thing you can certainly say for them is that they showed great determination to have a go at United, having been outplayed in the first 45 minutes. They came out for the second-half looking to force a way back into the game and were able to apply some decent pressure, though without creating any clear-cut chances.
Instead Oxford were able to extend their advantage to give themselves one foot in the next round as Didcot were caught on the break. Sam Humphreys raced into the box only to take a tumble over a clumsily outstretched leg. Ashby slotted home the penalty to all but end Diddy's challenge. There was a tiredness about the home side's defending for the third goal, as they were caught ball-watching at a corner and punished by Cian McCormack who was quickest to react to the ball across, heading home powerfully.
The game opened out after this as Didcot threw caution to the wind in search a consolation and as a result both sides had chances, though neither were able to make them count. Goalkeeper Barney Martin had to be on his toes to keep out Matty Woodley's spectacular effort while Roberts remained frustrated in front of goal as Beesley kept out his shot after some lovely work on the right by Humphreys.
In truth, United weren't the irresistible force they were
against Swindon
a few weeks ago, but then they appeared to be up against much stronger opposition, despite their lower league status. But they kept calm against a side who were clearly up for it this evening and avoided an upset in a professional manner. That's an example our first team would do well to follow in their FA Cup first round tie in a couple of weeks against Gateshead.